On the opposite shore…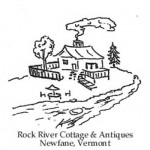 Rock River Antiques is located at our nearby home in Townshend and features Functional Antique, Vintage and Modern Furniture, specializing 20 years in Barrister Bookcases, and an unusual assortment of Fine & Collectible Antiques & Artwork through dealer friends in the area.
The most recent arrival is an impressive collection of Mid-Century Modern [1950-1970] Solid Rosewood and Teak Furniture from Danish Designers Anderson, Hansen & Vodder. You'll fall in love with the workmanship–extraordinary, as well as the functionality! The Hansen Sideboard (shown) and Vodder Chest of Drawers lend themselves ideally to holding large flat screen TVs with class! You may not even notice the TV at all when it's off, because this furniture is Artwork.
Limited inventory selling at one-half or less than "gallery" prices, so dont miss out. You will never buy another dining room set, and just think…a wedding gift that is Forever, and they will never forget you. Also featuring western Massachusetts American Folk Art Painter, Peter Ompir [1904-1979] and his contemporaries, offering an outstanding collection of notable pieces acquired close-to-the-source. Take a look! Come visit, or we are happy to email photos.